Product Search Information
Similar Products
Sundtek MediaTV ISDB-T (ISDB-T/DVB-C, FM-Radio, AnalogTV)
Art.No.: 16
Sundtek MediaTV MiniPCIe (DVB-CT/T2, FM, AnalogTV)
Art.No.: 3
Sundtek MediaTV MiniPCIe (ATSC/ClearQAM, FM, AnalogTV)
Art.No.: 15
Customer who ...
Sundtek SkyTV Ultimate 6 (DVB-S/S2)
Art.No.: 9
Sundtek MediaTV Pro (DVB-C/T/T2, FM-Radio, AnalogTV)
Art.No.: 1
Sundtek MediaTV ISDB-T (ISDB-T/DVB-C, FM-Radio, AnalogTV)
Art.No.: 16
Product Details
Sundtek MediaTV ATSC 2015 (ATSC/ClearQAM, Radio, AnalogTV)
Art.No.: 11
ATSC, ClearQAM, Analog TV, FM Radio, Composite, SVideo, HDTV Stick
No ratings.
Manufacturer:
Sundtek Devices
Tuners will be shipped from 15th January 2015 on!
Sundtek MediaTV ATSC 2015 (ATSC/ClearQAM, Radio, AnalogTV)
Sundtek MediaTV ATSC is a hybrid USB TV Tuner which supports american analog TV, FM Radio as well as ATSC and ClearQAM.
This tuner can be used to receive analog and digital broadcast television in Canada, USA and South Korea
Supported Standards:
* AnalogTV (NTSC, PAL, SECAM)
* ATSC
* ClearQAM
* S-Video / Composite (NTSC, PAL, SECAM)
Driver Support:
* Windows Vista / 7 / 8
* Linux starting from 2.6.15 (all Linux versions since 2006!)
* MacOSX
The linux drivers are generic. This means that our drivers don't need to be compiled to work on certain systems since we are using the generic Linux USB interface - this is a very unique and handy feature. Also the Linux drivers support streaming the ATSC device to Windows and register a virtual BDA Network driver which then can be used with Windows Mediacenter or other applications. The driver installation on any kind of Linux usually takes around 10 seconds only.
Accessories:
- good remote control
- Antenna
- 30cm USB Cable
- S-Video / Composite Cable
Supported architectures:
- ARM
- MIPS
- SH4
- PPC
- X86/32-64
Supported systems (all known systems which allow support for additional USB devices are supported!):
- Raspberry PI
- Banana PI
- Synology NAS
- QNAP Nas
- Beaglebone Black
- Seagate Dockstar
and many more!
- Supports Dreambox, XTrend, VU+ and many more Engima2 Settopboxes (no kerneldrivers are required!)
 The driver is translating the ATSC stream to DVB-T
WXIA-TV 1920x1080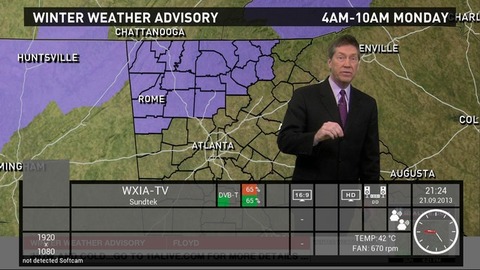 Settopbox Installation:
Forum Thread
Installation on regular Linux systems:
Forum Thread
Specification:
- FM Radio (76 - 108 MHz), RDS
- Frequenzbereich 42–1002 MHz
- AnalogTV: NTSC, PAL, SECAM, Videotext Support (480i)
- Amerikanischer digitaler Terrestrischer Standard ATSC A/53 8VSB (HDTV)
- Amerikanischer digitaler Kabelfernsehen Standard (QAM) ITU-T J.83 Annex B 64/256QAM (HDTV)
Energy consumption:
* ATSC 320mA
* AnalogTV 290mA (low temperature!)
* FM Radio (including RDS decoder) 180mA
* Standby 70mA
The tuners are engineered and manufactured in Berlin, Germany. Direct technical support (Windows/Mac/Linux) from our engineers is also available. Our Support can be contacted via:
* Skype Chat (sundtek)
* IRC irc.freenode.net #sundtek
* Webchat (http://chat.sundtek.de however Skype is preferred, we are not constantly monitoring the Webchat)
Tags
[!] Price Alert
We are happy to inform you about a price change of this product respectively when it hits the price you want to purchase.
Write Product Review
Current product
Sundtek MediaTV ATSC 2015 (ATSC/ClearQAM, Radio, AnalogTV)
Art.No.: 11
ATSC, ClearQAM, Analog TV, FM Radio, Composite, SVideo, HDTV Stick